Stem Cell Research 2019 Meeting &amp Hospitality
The City
For many, Italy is one of the dream destinations of their life. With 50 UNESCO World Heritage Sites, innumerable cultural artifacts, buildings, and archaeological sites from the Roman Empire and the Renaissance periods, along with the quaint Alpine villages and towns in the north of the country and fascinating Mediterranean coasts to the south, Italy is justifiably the 5th most visited country in the world. Italy consistently ranks amongst the world's most-visited countries. Rome is the capital of Italy, also the country's largest and most populated commune and fourth-most populous city in the European Union. The Metropolitan City of Rome has a population of 4.3 million residents. The city is located in the central-western portion of the Italian Peninsula, within Lazio (Latium), along the shores of Tiber River. Vatican City is an independent country within the city boundaries of Rome, the only existing example of a country within a city: for this reason, Rome has been often defined as capital of two states. It is referred to as "Roma Aeterna" (The Eternal City) and "Caput Mundi" (Capital of the World), two central notions in ancient Roman culture. One of the most important cities, Rome, was founded in 753 B.C. by Romulus.
Culture: Rome has been a centre for music with a thriving musicscene as it houses some prestigious music conservatories. It is one of the most popular cities for tourism for it archaeological and artistic treasures, views and unique traditions.
Food: Roman artichokes are world famous dish.Cacio e Pepe and Da Danilo are the famous pasta dishes found in Rome. Culinary traditions stemming from cucina povera, or "peasant cuisine," can be found across Italy.The city is known as a centre of white wine, especially with the warm territory.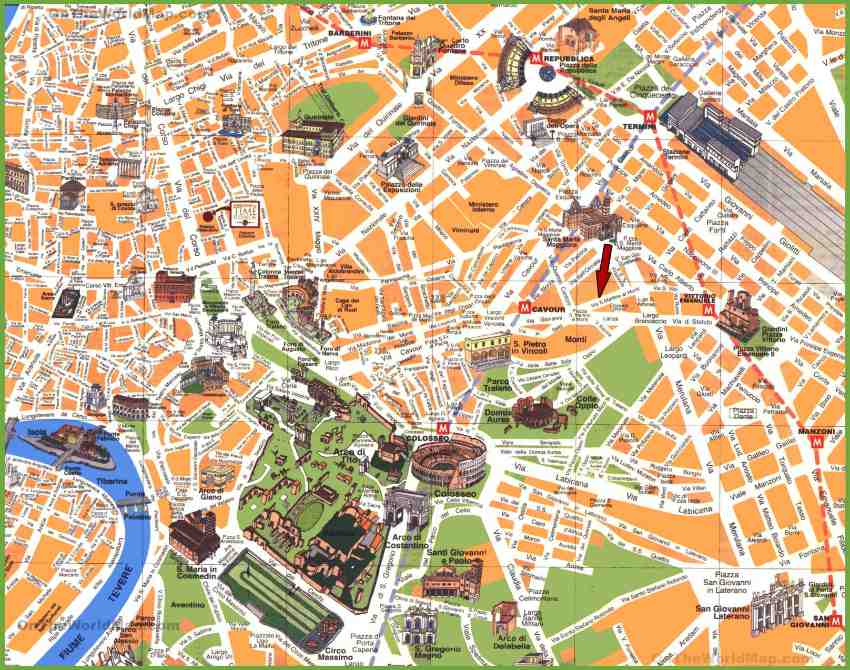 Directions
Route Map